It's with no pressing doubt that banks are changing the way they interact with their customers, and now it's more evident than ever as the terrifying realm of fintech 4.0 is coming to play. Fintechs are born digital-natives, but banks have the opportunity to leverage fintech TPPs through integrating open-technology platforms that are driven by AI, Cloud-computing, and Machine Learning, to draw a new user experience with digital-only services, personalization, and automation.
As banking is going through the generative age of open technology platforms, and as the digital-savvy consumer is becoming fickle enough in changing their primary bank– 50% of respondent consumers in PWC Digital Consumer survey 2019, suggest that they likely won't open another account with their primary bank. So what added-value could open technology, such as cloud-based systems bring to the banking proposition?
The cloud of today is critical for banking of the future
To tap into the cutting-edge technology of cloud-based systems is a shift into greater flexibility, agility, and scalability in deploying innovative payment solutions. Banks have been overlaying years of spaghetti-like infrastructure, and as the costs overlaying complete transformation to the cloud seems discoursing, the execution and definition of a cloud strategy into your acquiring bank should come in gradual shifts. PaaS offers on-demand delivery and management of apps, as well as paves the way for greater interoperability with TPPs, paving the way for BaaS to mix and match innovative payment applications that suite the needs for their customer segments. BaaS is an end-to-end process that allows to connect with banks' systems directly via APIs by opening their application programming interfaces (APIs) for third parties to develop new services.
As banks follow through their cloud transformation, Infotec advices the evaluation of suitability and compatibility of emerging technologies, such as cloud platforms, in order to yield the most benefits.
The criteria to choosing the right cloud-platform is best explained in the diagram below: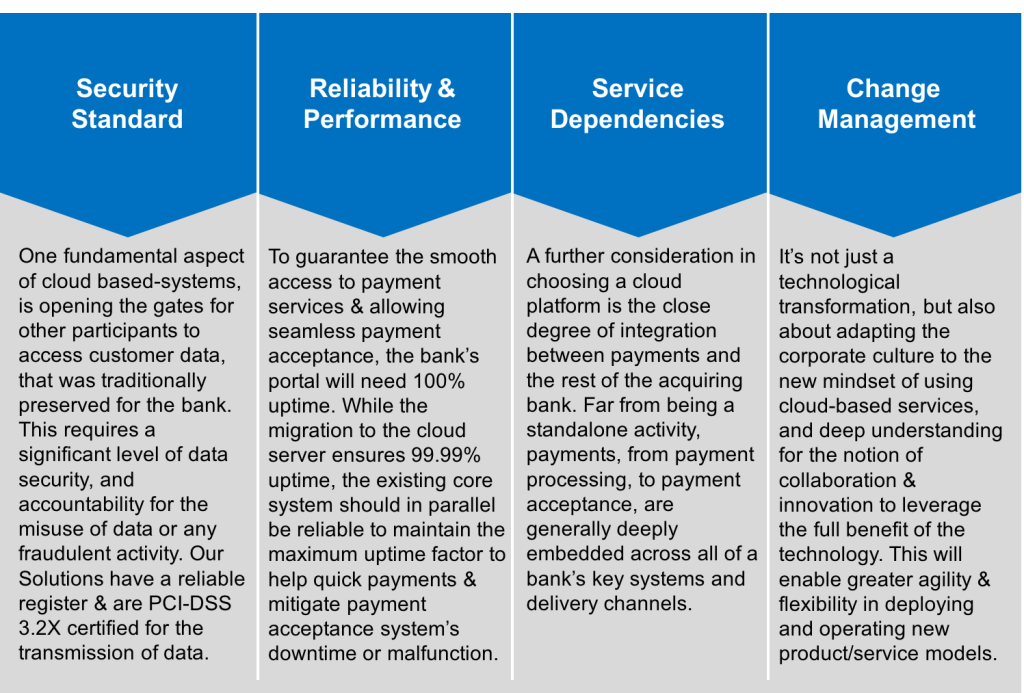 Riding cloud wave with Infotec Systems
Cloud-based platforms enable acquiring & issuing banks to offer a full range of financial services while reducing complexity, and costs. It can also be further drilled down to core banking services such as data analytics, data capabilities, and card management systems, or can leverage your BaaS model with industry-specific innovative payment solutions.
It's impossible to reimagine banking services, payment acceptance, payment processing, and volatile data storage without an underlying cloud platform. To this end, Infotec can help you assess the best approach to shortlisting & assessing cloud service providers. To stay ahead of the curve, we help you define the Baas "Banking as a Service" model, in which the spectrum of SaaS "Software as a Service" and PaaS "Platform as a Service" can be delivered with OpenWay's Way4 cloud-based Omni-channel Banking Platform for issuing banks, and our home-grown Altpay: Digital Commerce Gateway, that aims to transform the acquiring bank's network with an end-to-end payment ecosystem. We have identified the below two dimensions that put cloud service providers under scrutiny.
In terms of design & Scalability Functions
PaaS offers enormous flexibility, and can integrate innovative payment solutions to your BaaS while sticking to compliance rules & regulations of the global payments industry. It can engage the entire acquirer & issuer banks' value chain with industry-specific TPPs. The process that allows PaaS to connect to the banks' system is instantly & securely managed by opening bank's Application Program Interfaces (APIs) paving-way to scale your banking solutions to the global payments industry, and transfer your financial data abroad securely.
In terms of Innovation & Banking Specialization.
The cloud service provider is designed as an end-to-end environment in which the TPP under scrutiny is granting the bank industry-specific payment solutions such as acquiring models, card management systems, digital wallets and acting as a single point of contact for the developing and operating model for new innovative payment solutions. These providers have industry-specific knowledge on banking industry laws & regulations, and can suite your acquiring bank's requirements.